Putting the "Play" back in Murder Mystery since 2000.
Play Dead is your best resource for Comedy based play scripts in 2 acts which are available for your High School, College, community or dinner theatre or community to perform.
Most scripts contain a section of "improvisation" and "audience interaction"
Many scripts you can tailor with your own "local" references to fit your community.
Most of the scripts have a cast of 8 or more and are adaptable for any venue.
All scripts are available for download as pdf upon payment. No waiting for books* to arrive and no extra charges for multiple scripts. However, if you prefer, most scripts are available in book form. Contact us for details.
Preview/perusal version of all scripts are available. Also, most plays can be purchased in complete book form (and Kindle versions) through Amazon. Click Here to see list.


Click Here To see a List of the Play Scripts!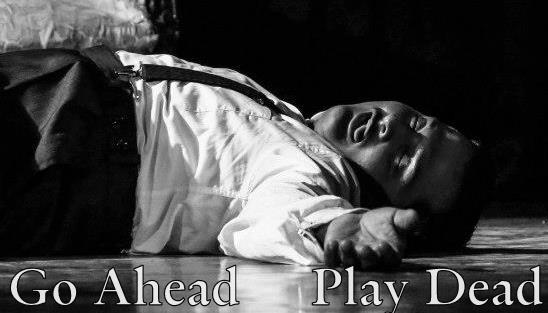 "Hi - we have been doing your comedy Murder mystery dinner theater plays for 6 years at our school with HUGE success- Our productions sell out within 48 hours that tickets go on sale. Our public LOVES your plays!"
-William Pearce
Purchase Line High School
Commodore PA


---

"This was our first attempt at any kind of show at the park district. We had 70 people show for dinner and the show, which is more than we had hoped. My boss was so pleased that he wants to do another one in the winter. Thank you for all of your help."

--Dee Hamilton
Worth, IL