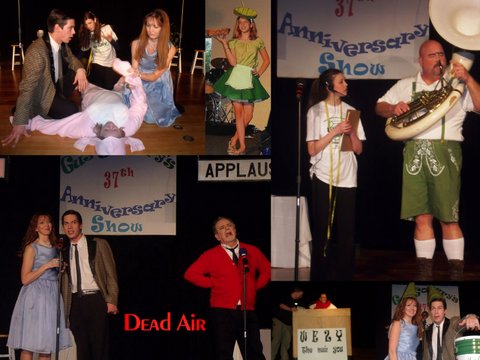 Setting: A Live Radio Broadcast
Cast Total: 11
6-males
5-females
Radio station WEZ-Y established a winning format in the 1950's and has stuck with it ever since. Ever since the 60's, the 70's, the 80's etc. Nothing has changed. Not the music nor the annual "Live Broadcast" hosted by Guy Godfry; 'Your voice in the night.' This particular Anniversary show proves to be a wee bit different.
First of all, rumor has it the station is about to be purchased by a large media conglomerate. Secondly, Guy seems to be having a virtual breakdown on the air. To top it off, the Bunny Bagel Boy collapses right after his live commercial spot and appears to be dead.
Will any of this help the ratings? Is anyone listening? Does anyone care? Why am I asking you? Tune in and find out.
All age Appropriate -no mature content
Click Here to Read a short Sample from "Dead Air"


Click here for Character Descriptions
We use the highly secure On-Line payment source PayPal *Note: You Do

Not

Need a Paypal account to make a payment. Simply choose to pay with Credit Card, Debit Card or Check. - You will recieve

1 pdf copy

of which you may make as many copies as you need





Order Performances

Select Number of Performances





Note: All Sales are considered final




Try Before you Buy
Order Preview Script!

Preview Copy
(pdf format)
for 15.00 clicking here:


NOTE: A "Preview" is not
the whole script.
.




Now Available in Paperback!


(complete play)

Print and Kindle versions
available
Need to use a
Purchase Order
?
Click Here