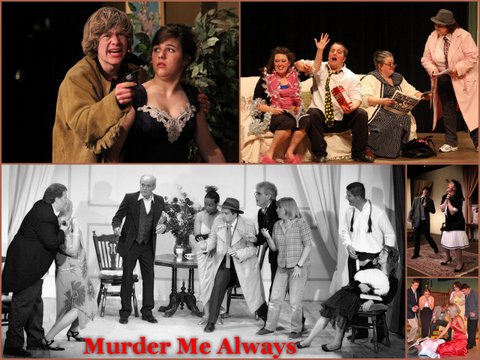 Setting: An Amateur Play production
Cast Total: 11
6-males
5-females
During a very bad performance of "Murder Me Always" , an actual murder takes place off stage. The Director is shot. The "fake" play comes to a screeching halt and a "real" murder mystery begins. It seems a "Murder Mystery Murderer" is on the loose and has struck again. Luckily, Detective Joe Mamet, a Raymond Chandler Pulp type gumshoe has staked out the audience and rises to the occasion to begin an investigation. Could it be that one of these very bad actors is really a very bad person? Will this "real" murder mystery be any better than the fake one? Is art imitating life? Is the play really the thing?
(Does contain a few innuendos and drinking but there is a "G" rated version available.)
Click Here to Read a short Sample from "Murder Me Always"


Click here for Character Descriptions


Christmas Holiday Version Available Click Here



Order Performances


Select Number of Performances





Note: All Sales are considered final




Try Before you Buy
Order Preview Script!

Preview Copy
(pdf format)
for 15.00 clicking here:




NOTE: A "Preview" is not

the whole script.


Now Available in Paperback!
(the entire play)

Book and Kindle versions
available