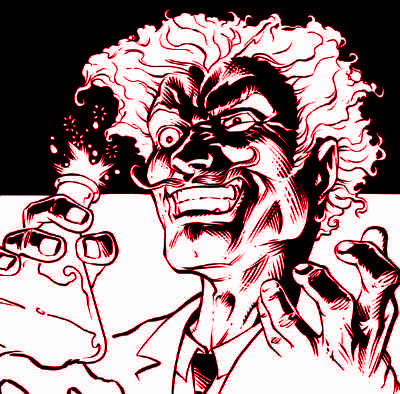 A Science Laboratory
Cast Total: 8
5-males*
3-females
*some can be played by females
Doctor Mingus is one of the most important figures in science today and you are lucky to be invited to the Mingus Estate to witness an experiment that will change the world as we know it! Our subjects are a husband and wife that just don'€™t see eye-to-eye anymore. With the help of his henchman, Idiot, his maid, Patrice and a host of uninvited guests... Can Doctor Mingus help them understand each other again? The subjects are strapped in, the switch is thrown, the power goes out and things just go downhill from there. THE SCIENCE OF MURDER is an experiment in flip-flopped personalities, power hungry egos, love, hate and DEATH!
*NOTE:
All resolutions to the murder take place in the final scene of this script. All audience votes should take place between scenes 3 and 4
Click Here to Read a short Sample from "The Science Of Murder"


Click here for Character Descriptions


Click here to learn about Toby Otero
We use the highly secure On-Line payment source PayPal *Note: You Do

Not

Need a Paypal account to make a payment. Simply choose to pay with Credit Card, Debit Card or Check. - You will recieve

1 pdf copy

of which you may make as many copies as you need





Order Performances Now!
Select Number of Performances



Note: All Sales are considered final




Try Before you Buy
Order Preview Script!
Preview Copy (.pdf format)
for 15.00 clicking here:



NOTE: A "Preview" is not the whole script.