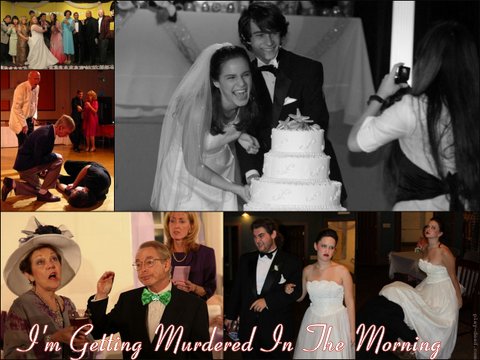 Setting: A Wedding Reception
Cast Total: 12
7-males
5-females
During the garter toss at Brenda and Eddie's Wedding Reception, a mysterious man falls dead on the dance floor from a gun shot. Luckily the bride's father -the wealthy Harold Montague -invited Damage control expert Mr. Parker to the event. Parker tries "spinning" the murder as "nothing to worry about" but Society columnist Mary Berger insists "something be done". Something like - hold the presses because this could be the "Society Scandal" of the year. Not only was a man shot during the garter toss but it seems the mysterious Dead Man has ties to both the Groom and Bride's family. Secrets that both sides do not wish to reveal. None the less, with some persuasion of Mr. Parker, the reception continues as planned and the Murder Mystery takes a back seat. For a while.
Click Here to Read a short Sample from "I'm Getting Murdered In the Morning"


Click here for Character Descriptions
We use the highly secure On-Line payment source PayPal *Note: You Do

Not

Need a Paypal account to make a payment. Simply choose to pay with Credit Card, Debit Card or Check - You will recieve

1 pdf copy

of which you may make as many copies as you need





Order Performances Now!

Select Number of Performances



Note: All Sales are considered final




Try Before you Buy
Order Preview Script!

Preview Copy
(pdf format)
for 15.00 clicking here:



NOTE: A "Preview" is
not

the whole script.





Now Available in Paperback!
(the entire play)

Print and Kindle versions
available

Need to use a
Purchase Order
?
Click Here
YHS Murder Mystery dinner theatre a Success!
by LINDA DORSETT-OTTA
Yucaipa News Mirror
Yucaipa, California
People attending Yucaipa High School's (YHS) Mystery Theatre on Friday became guests to a wedding reception as they entered the campus multi-purpose room. Lee Mueller's hilarious romp into the intricacies of a wedding reception in the play,
"I'm Getting Murdered in the Morning,"
was the feature of the evening!