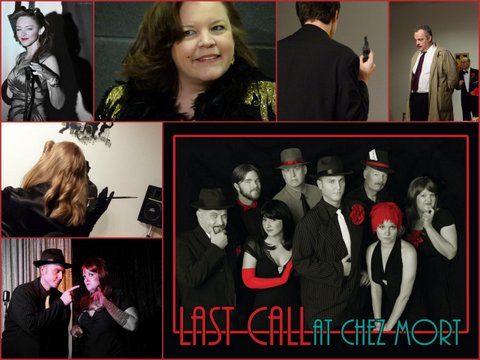 Setting: A Night Club (1940's)
Cast Total: 8
6-males*
2-females
*(two male roles can be played by females)
Return to the Golden age of the 1940's and the famous night club Chez Mort which was the scene of an unusual crime. As newspapers of the day reported: "Ingenue 'Sweet Sue' Blutowsky was mysteriously and fatally cut short during her debut singing performance. Inspector Constantine was quick on the scene to investigate the strange circumstances surrounding the shocking events. In attendance that night was the infamous hoodlum Big Suit Stu and his foreign henchman. Was he the culprit? Or the ditzy French Emcee Jean Paul Truffaut? Journey back in time and join the good inspector on that fateful evening and find out for yourself.
All age Appropriate -no mature content
Click Here to Read a short Sample from "Last Call At Chez Mort"


Click here for Character Descriptions
We use the highly secure On-Line payment source PayPal *Note: You Do

Not

Need a Paypal account to make a payment. Simply choose to pay with Credit Card, Debit Card or Check -You will recieve

1 pdf copy

of which you may make as many copies as you need





Order Performances Now!
Select Number of
Performances



Note: All Sales are considered final




Try Before you Buy
Order Preview Script!

Preview Copy
(pdf format)
for 15.00 clicking here:



NOTE: A "Preview" is not
the whole script.



Now Available in Paperback!



Book and Kindle versions
available

Need to use a Purchase Order?
Click Here